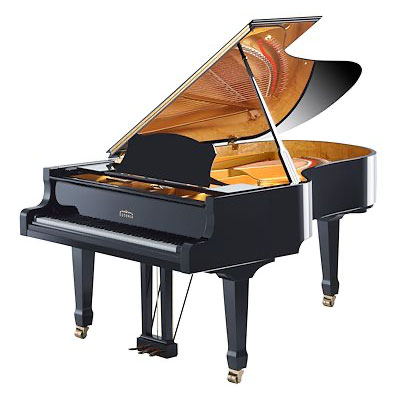 Estonia pianos have Renner actions, which are renowned for their high quality and performance by professional pianists. Louis Renner GMBH & Company, founded in 1882 in Stuttgart, Germany, supplies many high-end European piano makers. All Estonia piano models feature full Renner actions and premium Renner Blue hammers for ideal tone and durability.
The musical interpretations benefit from the responsiveness and smoothness of our keyboards. The responsiveness allows for subtle expression, while the smoothness facilitates the execution of challenging passages. This enhances the pianists' endurance and accuracy. Our keyboards are either handmade in our factory or sourced from the Kluge Company in Germany. Each key is meticulously crafted, sanded and tested. We use high-quality resonance spruce for its lightness and responsiveness. The keytops and felts are also from the Kluge and Renner companies respectively.
Each piano undergoes several tunings and voicings. The pianos are played by a machine at the factory to stretch the strings and test the action. Then they are tuned, voiced and regulated again. Second, a member of the Laul family plays and evaluates each piano and makes any necessary adjustments. Estonia Piano pays close attention to detail to ensure that your piano performance is a pure joy.
Piano making in Estonia was an art practiced since the late 18th century and has been documented as early as 1779.
The craft flourished, and during the late 19th and early 20th century there were nearly 20 independent piano companies. The most notable of these manufacturers was Ernst Hiis-Ihse, whose handmade piano from 1893 became the prototype of the Estonia piano. After WW II, Mr. Hiis was invited to establish a larger facility, known today as the Estonia Piano Factory.
Estonia pianos received awards for excellence in design and manufacturing at international competitions in Europe.
They became prominent on concert stages throughout the East, and over 7 400 Concert Grand instruments have been made. Many great pianists, such as Sviatoslav Richter, Dmitry Shostakovich, Emil Gilels and Claudio Arrau performed on these pianos. After Mr. Hiis' death in 1964, however, the quality of the pianos gradually declined due to the scarcity of high quality parts and materials during the communist regime and changes that were made to the production methods.
When the country regained its independence in 1991, the factory's employees struggled to keep production going and later bought the factory. Through the end of 1990's, Dr. Indrek Laul, an Estonian pianist, gradually purchased company stock and became its majority owner. With a team of managers he initiated the rise of the company. The instruments were redesigned through collaborating with foremost piano experts aiming to create an instrument of the highest level.
…while becoming the factory's sole owner and uniting its US distribution, Dr. Laul's musical family, along with pianist Reet Laul and conductor Venno Laul, has turned the tides and brought the piano to a higher level. Hundreds of changes and advancements were implemented in all piano models, a new production building was constructed and new piano models were added. In recent years, two new piano models were added – 210 and 225. By improving the sound, performance, appearance and durability, the instrument is now rated very highly (www.pianobuyer.com, page 42).
In recent years, Estonia pianos have gained much recognition throughout the world and feature stories have been broadcast or printed in many countries, including by Bloomberg News Network, Forbes, Deutsche Welle and The Associated Press.